Firstly, let me apologise for the above picture but it seemed appropriate as those of us in the UK have been told today that Boris Johnson will be our next Prime Minister with effect from (I think) tomorrow. I have no intention of getting into my feelings on the matter here but it seemed apt to stick him on today's post.
Anyway, the actual point of the post is to start to realise a long term goal – I want to create a list of cycle clothing manufacturers that cater for those of us with a larger body size than the typical cyclist. Anyone of that persuasion knows how hard it is to source decent technical cycling clothing and, whilst I've seen a few lists online (mainly on messageboards) they're not exhaustive. What I'd like to do with the help of you guys (and anyone else you know) is to build up a really good list of suppliers of larger size clothing in the hope it may help others getting into cycling in the future.
Let's face it, even skinny racing snakes look slightly silly in full lycra. If you're large and not athletic, it's almost comedic. If you step back and think for a moment of any type of clothing that is less suited to to an overweight body shape than full lycra I'll look forward to hearing about it. Don't get me wrong, it is absolutely the right thing to wear as a cyclist and I will tell anyone of any size that if they're going to cycle any distance then it will provide a lot of advantages over less technical wear. It still looks a bit daft on me though – your mileage may vary.
The list below sets out either clothing that I have been happy to wear and have firsthand experience of or that I have good reason to believe their sizes go large, mainly through word of mouth. Apologies for the fact that the list is slanted towards the UK for obvious reasons. Most of these sellers ship across the world and I'm happy to include any overseas suppliers that I may not be aware of.
If you are aware of a manufacturer or supplier that provides larger size clothing that I haven't (yet) got on the list below, please let me know.
The List (a work in progress…)
FAT LAD AT THE BACK http://www.fatladattheback.com
Fat Lad At the Back (FLAB) is the [big] daddy of larger size cycling gear as you might expect from the name. They also provide a Fat Lass At the Back range for ladies. They cater for male cyclists sized from 36″-58″ chest with 29″-60″ waists. Female cyclists' clothing ranges from 34-50″ chest, 27-46″ waist and 37-55″ hips. I have worn jerseys and bibshorts from FLAB and can attest to their quality. They have a wide variety of designs to choose from and have even produced a 'stealth' range that doesn't mention the f-word anywhere. I like the mission of the company, their typically Yorkshire sense of humour that they apply to their business and range and the clothing itself. It's not just skinny clothing made big; it's clothing designed around the more typical shape of a large human being and allows for a few lumps and bumps without showing them off to the world. Reet grand.
PRENDAS CICLISMO http://www.prendas.co.uk
Prendas supply a wide range of cycle clothing in size that go up to 8XL for men (my 48″ chest fits comfortably into a 5XL size) in many products. Their products are manufactured by a range of well known suppliers such as Santini SMS. Many of their jerseys are replicas of bygone team jerseys or specific race jerseys – they have a great range and very different to the usual big brand modern designs you see in the mainstream outlets. Their service is excellent and their products are too in my experience.
SANTINI SMS http://www.santinisms.it
Santini SMS are an Italian cycle clothing manufacturer. I mentioned them above as one of the ranges that Prendas sell but you can buy direct. Only some of their product ranges go large but the quality is good if you can find something to fit you.
FUNKIER http://www.funkierbike.com
Funkier are an American brand that is available in the UK through a number of mainstream sources although direct purchases can be made through the website. The first pair of bibshorts I ever bought were Funkier and they are still used to this day, although not as my main pair. They've held up well and are nicely made. Funkier offer a decent range of products and they come in a variety of sizes although not all come in the larger sizes – it's down to checking each item on the website. Their winter jerseys are good – I've one one for a number of years that kept me toasty during the cold weather but without plastich bin liner lack of breathability. Most Funkier products are keenly priced as well (may not be so if imported direct from the USA).
ASSOS http://www.assos.com
What?! Assos?! Aren't they premium, racing snake specialists?! Well, yes, but my last bibshorts came from Assos and they fit really well. I'm a 39″ waist (possibly 40″) and their largest size of bibshorts fits me nicely – I don't feel like I've had to squeeze into them. So anything up to 40″ waist should be good, possibly 42″. I haven't tried a jersey as they seems to only go up to about 46″ chest and I have no idea if that's an optimistic sizing or not. I cannot speak highly enough about the quality of their bibshorts but, given the price, they should be bloody good! I bought mine in a sale and they were only mildly eye-wateringly expensive. To be fair though, they really are comfy and I would happily buy them again (after I've saved up or sold off the kids).
ENDURA http://www.endurasport.com
In a similar vein to Assos, I have bought and worn Endura bibshorts but never tried a top. Their premium Pro-SL bibshorts fitted me very well and have lasted me for a few years with no issues at all and I would highly recommend them. No idea on the tops – I have no doubt they're of a similar quality but can't vouch for the sizing.
STOLEN GOAT http://www.stolengoat.com
I was very pleasantly surprised to discover that SG's jerseys fitted me. Just… I bought a jersey last year in their XXXL size and it is a snug fit but it is a fit. I love some of their designs and have also heard very good things about their bibshorts although I haven't yet tried them myself.
KNIGHT SPORTWEAR http://www.knightsportswear.com
I recently discovered these guys looking for some custom kit. KS have a range of cyclingwear that goes up to a 6XL (54″) chest. The products are largely designed in support of the UK Armed Forces or related charities and may not be to everyone's tastes but I like a number of them and have my eye on an order soon. They also do custom kit for events in alrger sizes which is good to know. I haven't yet tried them so can't comment on quality or comfort.
AEROTECH DESIGNS http://www.areotechdesigns.com
Another American company who supply larger size cycle clothing in both stock designs and custom kits. They have three fit types and a huge range of sizes – some of the largest go up to a 64″ chest. There are a lot of different designs as well so well worth checking out. No personal experience but have read good things online.
TENN OUTDOORS (Amazon/Google)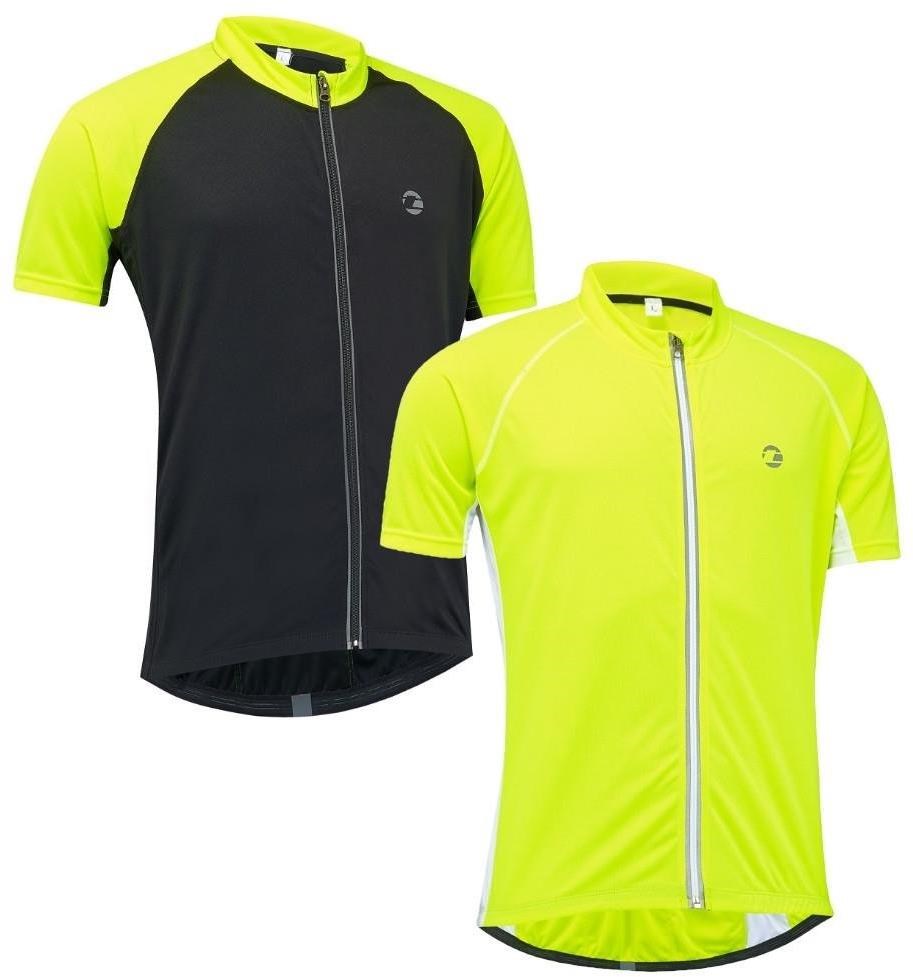 It's a shame to have to report that this company have closed down. I have a number of Tenn products in my wardrobe and they were all good value for money and nearly all good quality kit as well. Their bibtights have been going strong for a number of years and I have several jerseys that I wear frequently. The cut of their sprint jerseys was sporty – not race cut but not flappy so suited my figure rather well. Their standard cut was even more forgiving. Whilst their website no longer works, their products are still available (for long I'm not sure) on Amazon and other retailers – definitely worth checking out. For example – I have two of the Sprint jersey shown above which is currently on sale for GB£8.49 at Tredz online! Bargain!